Hot Food Containers
Made with Sustainable Recycled Paper
Select a hot food container below for more details
Whether serving hot food or packaging your products for retail sales, awesome containers catch your customer's attention and promote your brand. A generic or blank container, while inexpensive, advertises for nobody and costs you valuable exposure to potential new customers. With Visstun's two-case minimum, quick turnaround, and Hi-Definition print, it's easy and affordable to supercharge your business with custom branded containers that stand out on the shelf and turn everyday containers into marketing superstars.
Made with Sustainable Recycled Paper

Sustana® EnviroLife™ Post-Consumer Recycled Fiber

Single Poly Uncoated Matte Finish
Hi-Definition, Full-Color Print
Great for Oatmeals, Muffins, Soups & Hot Food Packaging
With Visstun, you get awesome packaging plus eye-popping shelf appeal for all your flavors, sizes, and product versions - the days of labeling generic cups to launch a new brand, product, or flavor are over!
Consistent Branding For Your Sizes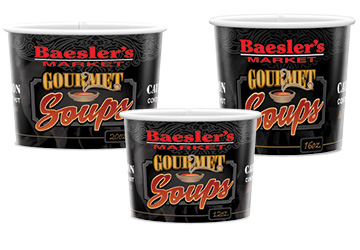 Easy Versioning For Your SKU's