Paper Cups
Made with Sustainable Recycled Paper
Select a custom paper cup below for more details
When customers leave your establishment carrying your drink cup, they advertise your business to every person they pass or meet. A generic or blank cup, while inexpensive, advertises for nobody and costs you valuable exposure to potential new customers. With Visstun's two-case minimum, quick turnaround, and Hi-Definition print, it's easy and affordable to supercharge your business with custom branded cups that turn everyday cups into marketing superstars.
Made with Sustainable Recycled Paper

Made with Sustana® EnviroLife™, Post-Consumer Recycled Fiber

Double Poly Gloss or Matte Finish
Hi-Definition, Full-Color Print
Great for Cold and Freezer Use
With Visstun, you get awesome packaging plus eye-popping shelf appeal for all your flavors, sizes, and product versions - the days of labeling generic cups to launch a new brand, product, or flavor are over!
Consistent Branding For Your Sizes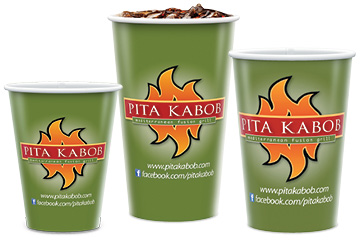 Easy Versioning For Your SKU's