Coffee Cup Options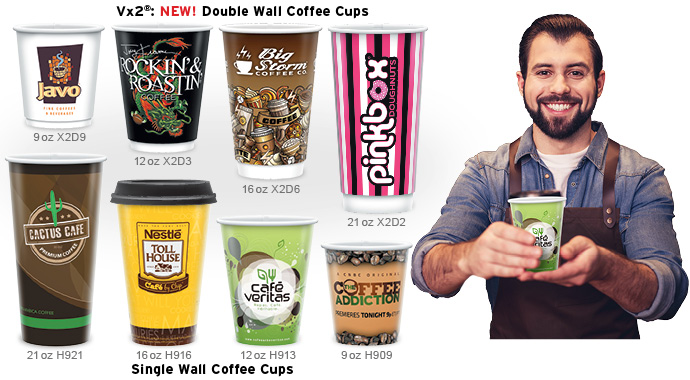 When customers leave your establishment carrying your custom printed coffee cup, they advertise your business to every person they pass or meet. A generic or blank cup, while inexpensive, advertises for nobody and costs you valuable exposure to potential new customers. With Visstun's single-case minimum, quick turnaround, and Hi-Definition print, it's easy and affordable to supercharge your business with custom paper coffee cups that turn everyday cups into marketing superstars.
Vx2™ NEW Double Wall Custom Disposable Coffee Cups have an integrated insulation layer to provide comfort and convenience without sacrificing your image. Perfect for keeping hot drinks hot, cold drinks cold, and hands comfortable!
Recycled Paper Board
Hi-Definition, Full-Color, Full Wrap Print
No Need to Inventory Cup & Sleeve with Vx2™
Vx2™ is great for Hot & Cold Drinks Reducing Cup Inventory
Consistent Branding For Your Sizes
With Visstun, you get eye-popping brand recognition for all your flavors and sizes - the days of generic cups and missed branding opportunities are over!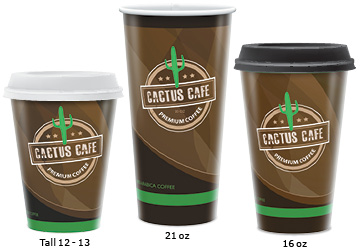 Standard Case Pack
Single Wall
Box Dimensions
Per Box
Per Pallet
Size
Code
L"
W"
H"
CF
Sleeves
Pieces
lbs
Dimensions
Weight
Boxes
Pieces
9 oz
H909
16.20
13.06
11.01
1.35
10@50
500
12
40.00"x48.60"x93"
909
72
36,000
Tall 12 oz
H913
18.10
14.58
12.01
1.83
10@50
500
14
40.00"x48.00"x89"
633
42
21,000
Tall 16 oz
H916
18.10
14.58
12.50
1.91
10@50
500
17
40.00"x48.00"x93"
759
42
21,000
Tall 21 oz
H921
18.10
14.58
17.23
2.63
10@50
500
22
40.00"x48.00"x91"
705
30
15,000
Double Wall Gloss
Box Dimensions
Per Box
Per Pallet
Size
Code
L"
W"
H"
CF
Sleeves
Pieces
lbs
Dimensions
Weight
Boxes
Pieces
9 oz
X2D9
16.20
13.06
22.13
2.71
20@25
500
19
40.00"x48.60"x94"
729
36
18,000
12 oz
X2D3
18.25
14.88
19.63
3.08
20@25
500
24
40.00"x48.00"x84"
621
24
12,000
16 oz
X2D6
18.25
14.88
23.88
3.75
20@25
500
27
40.00"x48.00"x92"
639
22
11,000
500ml
X2D7
18.25
14.88
23.88
3.75
BULK
500
27
40.00"x48.00"x92"
639
22
11,000
21 oz
X2D2
18.25
14.88
20.88
3.28
20@12
240
17
40.00"x48.00"x89"
453
24
5,760
Double Wall Matte
Box Dimensions
Per Box
Per Pallet
Size
Code
L"
W"
H"
CF
Sleeves
Pieces
lbs
Dimensions
Weight
Boxes
Pieces
9 oz
XHD9
16.20
13.06
22.13
2.71
20@25
500
19
40.00"x48.60"x94"
729
36
18,000
12 oz
XHD3
18.25
14.88
19.63
3.08
20@25
500
24
40.00"x48.00"x84"
621
24
12,000
16 oz
XHD6
18.25
14.88
23.88
3.75
20@25
500
27
40.00"x48.00"x92"
639
22
11,000
500ml
XHD7
18.25
14.88
23.88
3.75
BULK
500
27
40.00"x48.00"x92"
639
22
11,000
21 oz
XHD2
18.25
14.88
20.88
3.28
20@12
240
17
40.00"x48.00"x89"
453
24
5,760