Clear Plastic Cups
Made with Reusable and Recyclable Polypropylene
Select a Clear Plastic Cup for more details
When customers leave your establishment carrying your branded cups, they advertise your business to every person they pass or meet. A generic or blank cup, while inexpensive, advertises for nobody and costs you valuable exposure to potential new customers.
Since these start out clear, you build a visually stunning clear plastic cup using vibrant translucent colors and dynamic effects created by mixing opaque and transparent areas. You control, through your art, which areas are clear, translucent, and opaque.
With all this visual flexibility and the durability of a reusable clear plastic cup, you get awesome branding that continually generates interest when it's taken home and used over and over again.
Made with Reusable and Recyclable Polypropylene
Top-Shelf Dishwasher Safe & Reusable
Durable - won't Shatter or Crack
Exclusive Printed Color Rims
Hi-Definition, Full-Color Print
Great for use as a Stadium Cup for Fountain Drinks, Adult Beverages, and Iced Coffees
Made in the USA in our FSSC 22000 certified manufacturing plant
These cups are available in 6 different sizes and made with reusable and recyclable polypropylene, making then reusable, recyclable, and top shelf dishwasher safe. With Visstun, you get awesome cups with eye-popping branding for all your flavors, sizes, and product versions - the days of labeling generic cups to launch a new brand, product, or flavor are over!
Anatomy of Our Clear Plastic Cup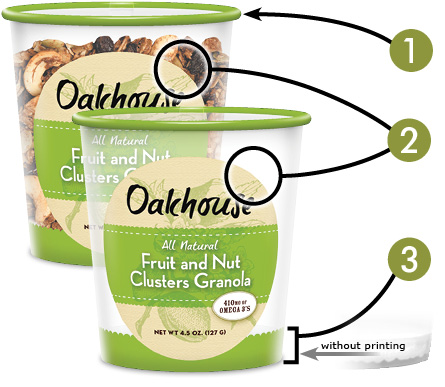 Printed color rims are a Visstun® exclusive.
The full and empty cups on the left show how you can use opaque, translucent, and clear areas to create a unique cup design.
Our process requires us to print white behind the art in the bottom 1/2".
These plastic cups are also sustainable! Check out our Sustainability page to see the steps Visstun is taking toward manufacturing a more sustainable product.