Food Service Branding Lids
Visstun® gives you that big brand look at affordable volumes and prices. Plus, we make it:
Quick - Fast Turnaround
Easy - Low Minimum and Responsive Service
Awesome - Hi-Definition Full Color Print
Sustainable - Made with Recycled Paper
Let us show you how — NEW VIDEO
In addition to fantastic products, awesome branding is key to continued growth and success. From your drink cups to your serving cups to your retail packaging, Visstun® makes it easy to create consistent branding and build your business.
In total, we have 24 cup and container sizes and a wide variety of lids to fit each.
Jump to Lids
Premium Coca-Cola® Trademark Cups
Visstun® and Coca-Cola® have teamed up to offer the Coca-Cola® Trademark cup. One of the most unique features of the cup is the Trademark Coca-Cola® contour bottle. When filled, the cup transforms to a full bottle of Coca-Cola®. The Trademark cup is in stock and available to ship within 24 hours.
Click here for more information on our partnership with Coca-Cola®.
Reusable Basic Lid
Make your order a complete package with non-imprinted, injection molded lids. They're reusable, just like the cups! And they come with or without a straw slot. Why do we stock just white, black, and red lids? Visstun® cups are printed in Hi-Definition, Full-Color, stocking colored lids to match the rainbow of possibilities is not practical. Our testing indicates that most prints can be complemented with either a white or a black lid. Custom colors available with a minimum order of 200,000 and a 6 week lead time. Sold in full cases of 1,000.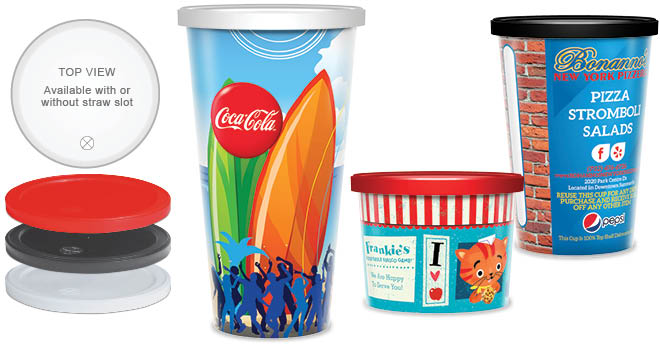 Reusable Basic Lid Sizes
DRINK CUPS
9 oz
Tall
12 oz
Tall
16 oz
17 oz
20 oz
Tall
21 oz
24 oz
32 oz
44 oz
Size Code
09
13
16
17
20
21
24
32
44
NoSlot

•

•

•

•

-

•

•

•

•

StrawSlot

•

•

•

•

-

•

•

•

•

Qty/Case
1,000
1,000
1,000
1,000
-
1,000
1,000
1,000
1,000
lbs/Case
12
13
13
14
-
13
15
19
20
CONTAINERS
3 oz
5 oz
Short
8 oz
8 oz
Short
12 oz
Mid
12 oz
12 oz
Short
16 oz
Mid
16 oz
Pint
16 oz
Short
20 oz
Short
32 oz
Size Code
T3
T5
S8
T8
S2
U2
T2
T6
U6
R6
2Q
3Q
NoSlot

•

•

-

•

•

•

•

•

-

•

•

•

StrawSlot
-
-
-
-

•

•

•

-
-
-

•

-
Qty/Case
1,000
1,000
-
1,000
1,000
1,000
1,000
1,000
-
1,000
1,000
500
lbs/Case
12
12
-
13
15
14
13
20
-
17
20
12
Standard Case Pack Configuration
DRINK CUPS
Box Dimensions
Per Box
Per Pallet
Size
NoSlot
StrawSlot
L"
W"
H"
CF
Sleeves
Pieces
lbs
Dimensions
Weight
Boxes
Pieces
9 oz (09)
RK09N
RK09S
17.25
13.25
14.00
1.85
10@50
1,000
12
40"x48"x96"
504
42
42,000
Tall 12 oz (13)
RK12N
RK12S
18.50
13.10
15.25
2.14
10@50
1,000
13
40"x48"x86"
546
42
42,000
Tall 16 oz (16)
RK12N
RK12S
18.50
13.10
15.25
2.14
10@50
1,000
13
40"x48"x86"
546
42
42,000
17 oz (17)
RK17N
RK17S
19.50
14.00
16.00
2.53
10@50
1,000
14
40"x48"x91"
490
35
35,000
Tall 21 oz (21)
RK12N
RK12S
18.50
13.10
15.25
2.14
10@50
1,000
13
40"x48"x86"
546
42
42,000
24 oz (24)
RK24N
RK24S
14.00
20.00
16.00
2.59
10@50
1,000
15
40"x48"x86"
525
35
35,000
30 oz (30)
RK30N
RK30S
21.50
15.00
18.00
3.36
10@50
1,000
17
40"x48"x95"
595
35
35,000
32 oz (32)
RK32N
RK32S
21.00
14.00
18.00
3.06
10@50
1,000
19
40"x48"x95"
665
35
35,000
44 oz (44)
RK44N
RK44S
23.50
14.00
20.00
3.81
5@50
1,000
20
40"x48"x90"
480
24
24,000
CONTAINERS
Box Dimensions
Per Box
Per Pallet
Size
NoSlot
StrawSlot
L"
W"
H"
CF
Sleeves
Pieces
lbs
Dimensions
Weight
Boxes
Pieces
3 oz (T3)
RKT3N
--
13.25
17.00
14.00
1.82
10@50
1,000
12
40"x48"x90"
420
35
35,000
5 oz (T5)
RKT5N
--
17.50
15.00
15.00
2.28
10@50
1,000
12
40"x48"x95"
420
35
35,000
8 oz (T8)
RKT8N
--
17.90
13.25
13.75
1.89
10@50
1,000
13
40"x48"x90"
546
42
42,000
Short 12 oz (S2)
RK24N
RK24S
14.00
20.00
16.00
2.59
10@50
1,000
15
40"x48"x86"
525
35
35,000
Mid 12 oz (U2)
RKU2N
RKU2S
18.75
16.00
15.25
2.65
BULK
1,000
14
40"x48"x82"
420
30
30,000
12 oz (T2)
RK12N
RK12S
18.50
13.10
15.25
2.14
10@50
1,000
13
40"x48"x86"
546
42
42,000
Short 16 oz (T6)
RKT6N
--
14.50
21.50
17.25
3.11
10@50
1,000
20
40"x48"x92"
700
35
35,000
Pint 16 oz (R6)
RKR6N
--
20.00
16.00
16.00
2.96
BULK
1,000
17
40"x48"x85"
510
30
30,000
Short 20 oz (2Q)
RK44N
RK44S
23.50
14.00
20.00
3.81
5@50
1,000
20
40"x48"x90"
480
24
24,000
Short 32 oz (3Q)
RK3QN
--
24.50
16.50
10.75
2.51
BULK
500
12
40"x48"x91"
480
40
20,000